Fish cutlets recipe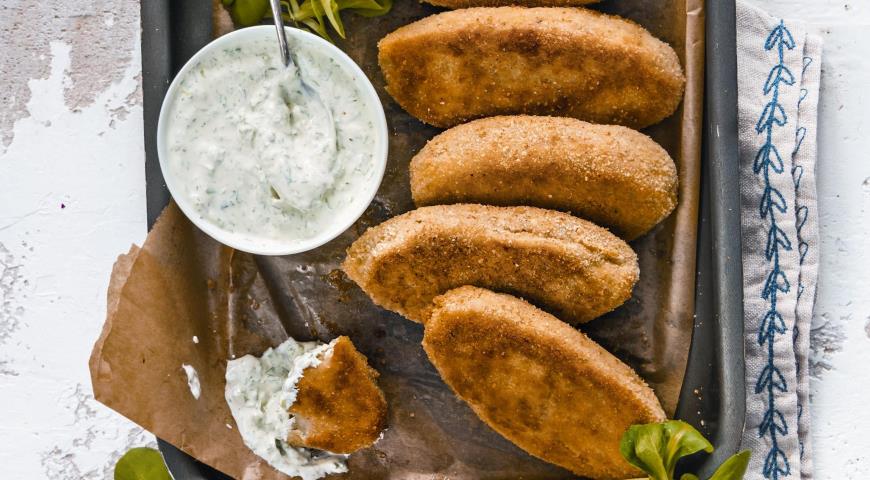 Ingredients Of Fish Cutlets
For the fish:
1 small ginger
2 Green chillies
3 Garlic cloves
3-4 Rawa fillets
For the base:
100 gms bread crumbs
1 Egg
2 Garlic cloves
1 small ginger
1 Chilli
A few leaves of mint
to taste salt
1 tsp turmeric
1 tsp red chilli powder
1 tsp saunf
4-5 Peppercorns
1 Bread slice
1 tsp oil
Water
1/2 Lemon (juiced)
1 potato (mashed), boiled
2 tbsp flour (to coat)
Oil (to pan fry)
for garnishing mint leaves
How to Make Fish Cutlets
Prepare the fish:

In a pan, steam the fish in a strainer with boiled water, ginger, green chilly, garlic and cover the pan.
Prepare the base:
In a blender, mix bread crumbs, egg, garlic, ginger, green chillies, fresh mint leaves, salt, turmeric powder, red chili powder, slice of bread, refined oil and juice of half lime.
In a mortar and pestle smash fennel and black pepper, add them into blender.
Add a little water and blend them together.
Add the steamed fish into the blender and grind them well.
Transfer them into a bowl and add one boil potato for starch. Mix them well. Make cutlets out of it and coat in some flour.
Keep it in the fridge for 10 minutes.
Add little refined oil in the pan and fry the cutlets both sides.
Garnish with mint leaves. Serve hot.
Key Ingredients: ginger, Green chillies, Garlic cloves, Rawa fillets, bread crumbs, Egg, Garlic cloves, ginger, Chilli, salt, turmeric, red chilli powder, saunf, Peppercorns, Bread slice, oil, Water, Lemon (juiced), potato (mashed), flour (to coat), Oil (to pan fry), mint leaves